Three female students make activated carbon masks from bagasse
---
Vina TS
Three 11th-grade students, Lai Vung 2 High School, Dong Thap province, make medical masks with an antibacterial layer of activated carbon from bagasse.
With the activated carbon mask made from bagasse, Bui Thi My Duyen, Le Thi Ngoc Yen, and Nguyen Thi Bich Ngoc are completing the application to participate in the children's creative competition in Lai Vung district.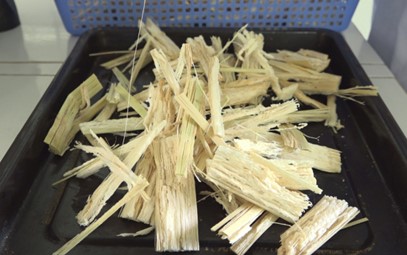 Bagasse was selected by three students as activated carbon. Photo: Phuc Dien
My Duyen said bagasse is cleaned with distilled water, chopped, and dried, ensuring sterility. Bagasse will then be calcined at high temperature, under anaerobic conditions to create activated carbon.
The next step is to disperse the activated carbon into a powder and spread it evenly on the antibacterial paper. This layer of paper will be left between the mask fabric. Finally, sew the edge, and fix the splint and wire. "Each mask uses about 1-2 mg of activated carbon, each kilogram of bagasse will make a lot of masks," My Duyen said.
Because all the stages are done by hand, all three children work together to make, one mask takes about 30 minutes to an hour. "In the current epidemic situation, if this mask can help many people, I am very happy," Ngoc Yen said and said that when presenting the idea, the three children were supported and helped by their teachers.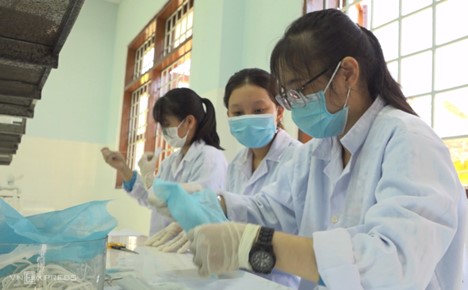 Three students make activated carbon masks from bagasse, each takes 30 minutes to an hour. Photo: Phuc Hien
Currently, bagasse is abundant in the countryside. People often dry bagasse as fuel or organic fertilizer. They estimate that each medical mask of this type costs about 3,000 VND.
Activated carbon is a form of carbon with high porosity, and a very large surface area, from which it is easy to absorb and react with many different substances. Activated carbon is created from burning carbon-rich fuels such as wood, coal, coconut shells, bamboo, … at temperatures from 600 to 900 degrees Celsius in anaerobic conditions. They have many uses from water treatment, deodorization, and medical applications, especially for disinfection, and vacuuming…
Ms. Le Ngoc Dung, Deputy Secretary of Lai Vung District Union, said that the creativity of the three students, although not new, is suitable for the current anti-epidemic situation. Their products need more research to perfect the production process and commercialize.
"The children tried their best to realize the idea and spread the message of making a product for the community. The district union as well as the school created maximum conditions for them to take the next steps. , perfecting the product", Ms. Dung said.